jungle cat cacao
joe taylor~chocolatier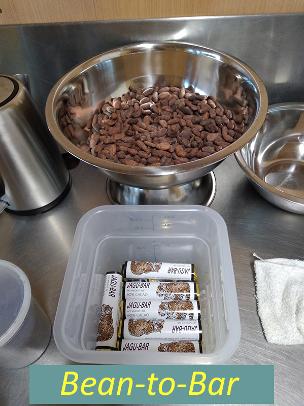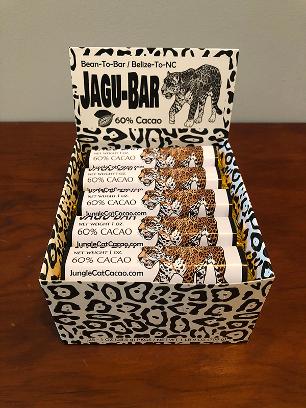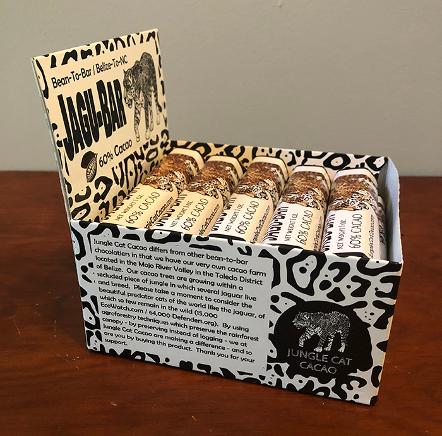 Jungle Cat Cacao is a small chocolate bar factory located on Wrightsville Ave right behind Coastal Glass Tinting. It is owned and operated by Joe Taylor, who has been making chocolate for about three years, and opened his shop to the public this past April 1st.
Jungle Cat Cacao uses only imported cocoa beans from Belize, which gives the chocolate a tropical fruitiness not unlike a 'grape' or 'raspberry' flavor. Currently the "Jagu-Bar" is available in local stores including Tidal Creek Co-op, Luna Caffe, and The Veggie Wagon.
The "Jagu-Bar" is a 60% cacao, dark chocolate, single-origin chocolate bar. The two ingredients for this chocolate bar are: Belizean cacao and unrefined cane sugar. Joe also owns a small cacao farm in Belize. The trees on his farm are not yet producing, so in the meantime Joe is buying from Finca Chocolate which grows sustainably and naturally and pays their workers a living wage.
Joe is also involved in making and recording music, and operates a small recording studio right beside the chocolate facility. Joe was in bands in the Chapel Hill music scene from the 90s through the early 2010s, including his bands Capsize 7, Lystra, and Blag'ard.
Please visit JungleCatCacao.com and PigZenSpace.com for more information.